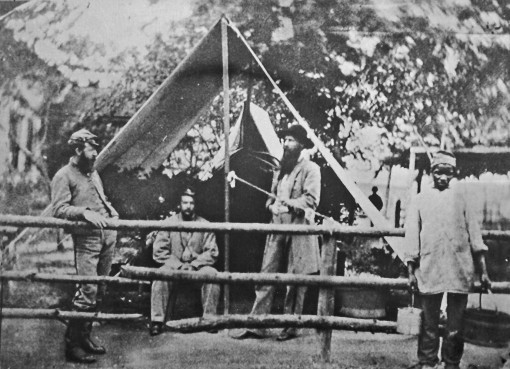 Stonewall Jackson had two portrait photographs taken during the Civil War – one in Winchester, Virginia, in November 1862 and the other near Fredericksburg, Virginia, in April 1863. No other period photographs of Jackson were believed to exist. 
The image above, however, supposedly shows Stonewall Jackson leaning on a fence in camp during the spring of 1862, also in Winchester, Virginia. The original ambrotype was said to be owned by Capt. Fred A. Briscoe, an assistant quartermaster in Jackson's army. According to the Briscoe family, Fred is the individual standing in front of the tent to the right. The soldier seated inside the tent was identified by the family as James Briscoe, while a slave named "Smitty" was said to be the young man standing outside the fence.    
The ambrotype was passed down to Fred Briscoe's niece, Mrs. Louise Briscoe of Charles Town, West Virginia. Following Mrs. Briscoe's death in 1979, the family discovered that the original ambrotype, which had been kept in a chest, had been replaced at some point with a fake. According to news reports at the time, the fake was a modern-day photograph of the original image pasted to a piece of glass and shellacked to resemble an ambrotype. 
In 1984, a Sharpsburg, Maryland, man was arrested, charged, and subsequently acquitted at trial of receiving and transporting the stolen ambrotype. The image itself was never recovered and remains missing. Fortunately, the Briscoe family also owned a circa 1910 photographic print of the ambrotype that had been produced in Washington D.C. by the Klinedinst studio. Photographs of the print were produced in 1984 by the Associated Press to accompany newspapers articles reporting the theft of the ambrotype. A picture of the print was also published in the Spring 1988 issue of the now defunct photographic magazine Incidents of the War.
The Klinedinst photo left the Briscoe family and changed hands twice before the new owner of the print put it up for auction with Christie's in May 1998. Described by the auction house as the "only surviving print of the one original ambrotype," it reportedly sold for $21,850. 
But is the person leaning on the fence really Stonewall Jackson? If so, it would be the only known full-length, standing image of him, and the lone one taken of him in the field. Newspaper reports of the 1984 theft trial recount some experts testifying they did not believe it to be Jackson in the image. Others have suggested it may be mapmaker Jedediah Hotchkiss instead. Below is a close-up of the individual in the print next to the two known Civil War images of Stonewall Jackson.  Is it him?