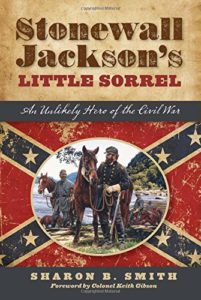 Stonewall Jackson's Little Sorrel: An Unlikely Hero of the Civil War
Sharon B. Smith
Hardcover; 288 pages
Lyons Press (2016)

In Stonewall Jackson's Little Sorrel, author Sharon B. Smith examines one of the most famous horse and rider combinations in military history. With an equestrian eye, she sheds new and valuable insight into Little Sorrel's temperament and gait, along with a meaningful evaluation of Jackson's often maligned riding style. The post-war life and death of the celebrated horse is also well documented. The book is an easy and worthwhile read for anyone interested in the Civil War life of Stonewall Jackson.