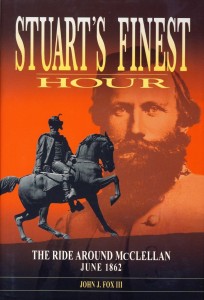 Stuart's Finest Hour: The Ride Around McClellan, June 1862
John J. Fox III
Hardcover; 344 pages
Angle Valley Press (2013)
Stuart's Finest Hour is a concise history of Jeb Stuart's renowned 110-mile, three-day cavalry ride around McClellan's Army of the Potomac in 1862. Arthur John J. Fox III brings the reader along for the ride with Stuart and John S. Mosby as he neatly illustrates how the raid's success was due to a combination of skill, luck, and poor reaction on the part of the Union army. The book is an interesting and worthwhile read for anyone who desires more detail on one of the most intriguing cavalry events of the Civil War.