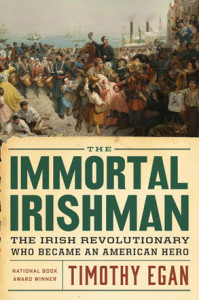 The Immortal Irishman: The Irish Revolutionary Who Became an American Hero 
Timothy Egan
Hardback; 384 pages
Houghton Mifflin Harcourt (2016) 
In the Immortal Irishman, author Timothy Egan writes a popular biography of Thomas Francis Meagher, banished to Tasmania by England only to escape to New York where he organized and then led the famed Irish Brigade during the Civil War. The book devotes approximately a third of the text to this time in Meagher's life and will pique one's interest into learning more about the brigade and the battles in which it fought. Although lacking a formal bibliography, the book is a good read for Civil War enthusiasts who know little about the extraordinary life of Thomas Francis Meagher.