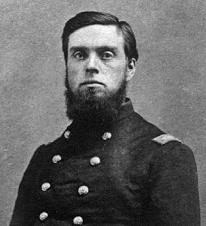 John T. Wilder was a New York native who left home at age nineteen determined to make it on his own. He eventually settled in Greensburg, Indiana, where he established a profitable foundry and became an expert in the field of hydraulics. But it was his innovations in outfitting a Union brigade that would gain him fame in the Civil War.
In 1861, the governor of Indiana commissioned Wilder as lieutenant colonel of the 17th Indiana Infantry. He was promoted to colonel in March 1862 and saw action in Tennessee and Mississippi. He was captured at Munfordville, Kentucky, in September 1862 and held briefly before being paroled and exchanged. Upon returning to service, he was given command of a new brigade in Gen. William S. Rosecrans' Army of the Cumberland.
Wilder's brigade spent part of the winter of 1862 protecting Union supply lines against raids by Col. John Hunt Morgan's Confederate cavalry. Wider quickly learned that his immobile infantry was unable to keep pace with cavalry on horseback, so he requested, and received, permission to refit his unit as mounted infantry.
In addition to increasing the mobility of his brigade, Wilder also wanted his men to be outfitted with the best available rifle. His first choice was the 1860 Henry rifle, a 16 shot breech loading, lever action rifle. He placed an order in March 1863 with the New Haven Arms Company for 900 Henry rifles. Unfortunately, the company lacked the manufacturing capabilities at the time to fill such a large order, so Wilder was forced to seek an alternative firearm.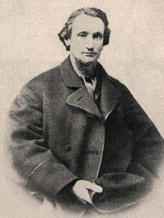 Around the time Wilder was negotiating his deal for the Henry rifles, a young inventor named Christopher Spencer came through Tennessee demonstrating his new breech loading rifle to officers of the Army of the Cumberland. Wilder was impressed with the efficiency of the Spencer Repeating Rifle and, when the Henry rifles became unavailable, he decided to outfit his unit with the Spencers.
Although the War Department had started purchasing Spencer rifles on a limited basis as early as 1861, the Ordnance Bureau was not in favor of purchasing the weapon on a mass scale. Subsequently, flow of the rifle through government channels was slow. Frustrated by the red tape, but still determined to outfit his unit with the repeater, Wilder negotiated a private contract with Spencer for 1,400 rifles at a cost of $35.00 a piece.
The assertive Wilder then went directly to his men, convinced them of the weapon's superiority, and persuaded them to purchase the rifle on their own – a substantial commitment as the $35.00 price was roughly equal to three months pay for an enlisted man. As initial payment for the order, Wilder secured a personal loan through a hometown bank in Greensburg, Indiana. Fortunately for Wilder and his men, the Federal government ultimately approved the order before any funds changed hands. Wilder gave a description of the rifle in a 1907 speech:
[T]he brigade, numbering over two thousand men, were then armed with the Spencer magazine rifle, capable of firing a shot without drawing on the magazine, which held seven cartridges; the rifle carried an ounce bullet of fifty-two caliber in copper cartridge, had a bayonet, and was a most formidable weapon, especially at short range, and would carry with accuracy a half mile.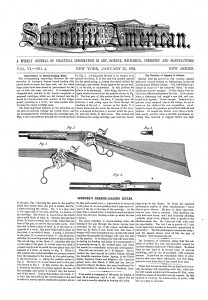 Wilder's newly outfitted force saw its first major action at the battle of Hoover's Gap, Tennessee, on June 24, 1863. The unit performed so well in battle that it earned the name "Wilder's Lightning Brigade" after its mobility and firepower were instrumental in the Union victory. Colonel James Connolly of the 123rd Illinois detailed the successful use of the Spencer rifle that day:
Presently the enemy got near enough to us to make a charge on our battery, and on they came; our men are on their feet in an instant and a terrible fire from the "Spencers" causes the advancing regiment to reel and its colors fall to the ground, but in an instant their colors are up again and on they come, thinking to reach the battery before our guns can be reloaded, but they "reckoned without their host," they didn't know we had the "Spencers," and their charging yell was answered by another terrible volley, and another and another without cessation, until the poor regiment was literally cut to pieces, and but few men of that 20th Tennessee that attempted the charge will ever charge again. 
The Lightning Brigade again proved its mettle in September 1863 at the battle of Chickamauga. On September 18, Wilder's men successfully protected the Union flank by delaying a Confederate crossing over Chickamauga Creek for several hours. Then, on September 20, Wilder's men attacked the left flank of Confederate general Arthur M. Manigualt's advancing brigade, forcing it to retreat. In the book This Terrible Sound, author Peter Cozzens states the fire from Wilder's Spencers was so heavy that Gen. James Longstreet "hearing the clatter from nearly a half mile off, thought for a moment that a fresh Federal corps had come crashing down on his left." As a result of his brigade's action at Chickamauga, corps commander Maj. Gen. George Thomas recommended Wilder be promoted to brigadier general. 
Although receiving his promotion in August 1864, Wilder, who had been plagued by poor health since contracting typhoid fever in 1862, resigned his commission in October 1864. Following the war, Wider moved to Chattanooga, Tennessee, where he established several businesses, including an iron mill, and was elected mayor of the city in 1871. He would later die in Jacksonville, Florida, at age 87 on October 20, 1917.