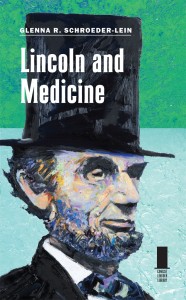 Lincoln and Medicine
Glenna R. Schroeder-Lein
Hardcover; 152 pages
Southern Illinois University Press (2012)
A book from the Concise Lincoln Library series, Lincoln and Medicine is a brief analysis of the medical conditions possibly suffered by Abraham Lincoln and his family. Schroeder-Lein does a thorough and effective job examining the available information supporting or refuting diagnoses such as Marfan's Syndrome and depression, among others. The author also discusses Mary Todd Lincoln's sanity and causes of death for the Lincoln children. A pleasing read for those interested in medical history or the life of our sixteenth president.