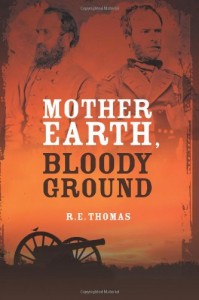 Mother Earth, Bloody Ground
R. E. Thomas
Paperback; 290 Pages
Black Gold Media (2014)
Mother Earth, Bloody Ground is part two in a trilogy of alternate history novels that depict Stonewall Jackson surviving his Chancellorsville wounding, transferring to the Western Theater, and going toe-to-toe against William T. Sherman. Author R. E. Thomas seamlessly renews the story with this edition and then revs up the action as Jackson and Sherman try to outthink and outmaneuver each other in Tennessee. The book is infused with the same energetic writing that made Stonewall Goes West such an enjoyable blend of fictional battlefield and personality clashes. Mother Earth, Bloody Ground is a fast-paced and entertaining read for alternate history fans, civil war enthusiasts, and Sherman and Jackson aficionados.