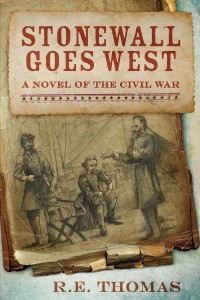 Stonewall Goes West
R. E. Thomas
Paperback; 256 Pages
Black Gold Media (2013)
From the alternate history genre, this book has Stonewall Jackson surviving his wounding at the battle of Chancellorsville and returning to action following his recuperation. Instead of remaining with the Army of Northern Virginia, he is promoted to command all Confederate armies in the Western Theater. In Stonewall Goes West, R. E. Thomas pens an enjoyable mix of battle scenes and interpersonal conflicts. It's no easy task to accurately depict individual personalities, let alone write believable fictional conversations and interactions between them; nonetheless, the author excels at both. This is the first of a planned trilogy eventually pitting Jackson vs. Sherman.