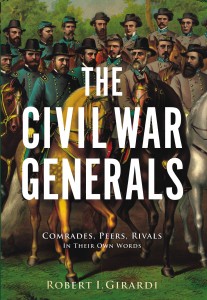 The Civil War Generals: Comrades, Peers, Rivals – In Their Own Words
Robert I. Girardi
Hardcover; 304 pages
Zenith Press (2013)
The Civil War Generals is an entertaining collection of primary source commentaries on Union and Confederate generals from a variety of individuals, most notably their peers. Both positive and negative remarks are documented for nearly 400 generals and a careful reading of the quotes, particularly the post-war reflections, often reveal as much about the commentator as it does about his/her subject. This book is a handy reference for those needing a pithy first-person description of a Civil War general's appearance or personality.