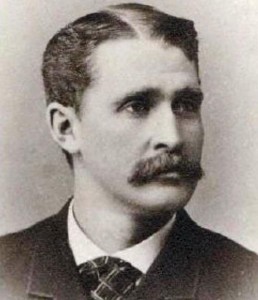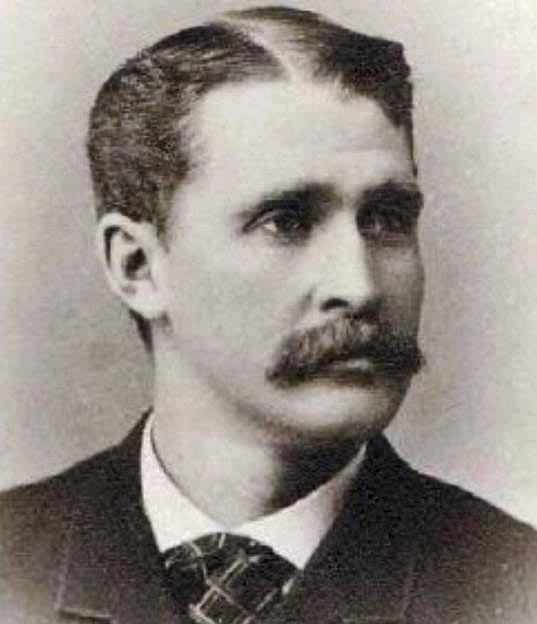 As the most popular post on this blog continues to be the one discussing the Confederate service of Devil Anse Hatfield, it seems appropriate to also examine the record of Randolph "Randall" McCoy, his chief antagonist in the famous feud.
Much like Hatfield's military record, primary documentation of McCoy's Civil War service is sparse. Oral tradition holds that Randolph McCoy and Devil Anse Hatfield served in the same Confederate unit during the Civil War, but their names, as yet, have not been found together on any unit rosters. But this alone is not unusual as information on many of the local units, especially the short-lived ones, is mostly incomplete.
Hatfield served in the Virginia State Line (VSL), a local militia unit formed in May 1862 that reported to the Governor of Virginia instead of the Confederate military. When the unit disbanded in April 1863, some 372 members of the group reportedly joined the newly formed 45th Virginia Battalion, a Confederate infantry unit organized by Lt. Col. Henry M. Beckley, a previous commander of the VSL. While Anderson Hatfield is listed as a 1st Lieutenant in Company B of this unit, Randolph McCoy's name is absent from the rolls. But a limited Compiled Service Record (CSR) for Randolph McCoy does exist, and it indicates that, as far as the Union army was concerned, he was associated at some point with the 45th Virginia Battalion.
McCoy's CSR states that he was captured in Pike County, Kentucky, on July 8, 1863 and sent to Camp Chase, a Union prison camp in Columbus, Ohio, where he arrived on July 20, 1863. A month later, he was transferred to the large military prison at Camp Douglas in Chicago, Illinois, where he remained a POW for the duration of the Civil War.
But to what unit was McCoy attached when he was captured? The document from Camp Chase identifies him as being a private in "May's Regiment" from Virginia, while his initial POW roll at Camp Douglas lists him as being in "Co. A, May's Virginia Cavalry." Although Col. A.J. May was the commander of a unit formed from McCoy's home area, it was a Kentucky unit, not a Virginia one, and it had disbanded in October 1862. In the spring of 1863, May was involved in recruiting members to a new unit that would become the 10th Kentucky Cavalry, but whether or not Randolph McCoy was a part of this recruitment effort is unknown.
By the time of his release from Camp Douglas, however, McCoy's prison documents had stopped listing him as being associated with Colonel May. Instead, he became identified as a private in "Co. C, Beckley's Regiment" (also spelled "Backley" on some documents), which would place him with the 45th Virginia Battalion. To make matters more confusing, McCoy's documents from both Camp Chase and Camp Douglas have annotations that read: "1 Cav. State Line"; "45th Bn., Va. Inf."; and "1 Inf., Va. State Line." Who made these notations to his record and when cannot be determined.
The details of McCoy's capture are unknown, but elements of the 45th Virginia Battalion were involved in a small skirmish in Pike County, Kentucky, in July 1863. The unit operated in the West Virginia-Kentucky-Virginia border region, not only as a guard against bushwhackers, but also to help protect the vital salt mines in the southwestern portion of Virginia. Union general Julius White, commanding the District of Eastern Kentucky, moved into the Pike County area in July 1863 and sent a small force to engage the Confederates along the Tug Fork River.
Men from the 45th Virginia Battalion met the advancing Union force along Pond Creek in Pike County, Kentucky, on July 7, 1863. A brief Official Records report written by Brig. Gen. White on July 10, 1863 states:
Since my last dispatch, a detachment of the Sixty-fifth Illinois and Thirty-ninth Kentucky, from this command, under Colonel Dan Cameron, have returned from an expedition up the Tug River into West Virginia where they routed and dispersed the enemy, under Buchanan, killing 5 and capturing 20. The enemy took to the cliffs and mountain sides, but the brave Illinoisans and Kentuckians vied with each other in climbing the steeps under a galling fire, and driving the enemy from their mountain fastness. Colonel Cameron and his officers and men have exhibited the utmost daring and energy, and have penetrated where no Union troops have been before.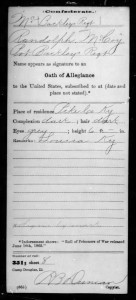 The "Buchanan" referred to in the report was Capt. John Buchanan, who commanded Co. B of the 45th Battalion, the company to which Devil Anse Hatfield belonged. If Randolph McCoy was captured in Pike County on July 8, 1863, he was most likely involved in the action around Pond Creek, which, at the very least, would place him fighting alongside the 45th Virginia Battalion.
Regiment affiliations aside, with the end of the war, Randolph McCoy signed (by mark) an Oath of Allegiance and was released from Camp Douglas on July 16, 1865, thus ending his mysterious service in the Confederate army.