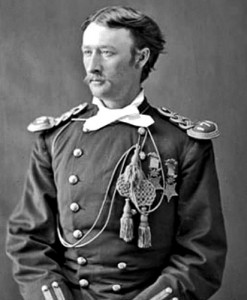 Having recently read the new war-time biography of Gen. George Armstrong Custer, I became interested in the story of his younger brother, Tom. Although Armstrong is the more famous of the two – albeit mainly for the day he died at Little Bighorn – Tom would become the first individual in history to be awarded two Congressional Medals of Honor, both for capturing the enemy's flag during the Civil War. 
Thomas Ward Custer was born on March 15, 1845 in New Rumley, Ohio. Almost six years younger than Armstrong, Tom grew up idolizing his brother and wanted to follow him into the military. Although technically too young for enlistment at the outbreak of the Civil War, the sixteen-year-old Tom lied about his age and was mustered in as a private in the 21st Ohio Volunteer Infantry on September 2, 1861. 
After seeing action at the Battle of Stones River in 1863, Tom was assigned escort duty to Brig. Gen. James Negley, a detail he continued until November of that year when he briefly became an escort to Gen. Ulysses S. Grant during the Battle of Missionary Ridge. Following the battle, Tom was reassigned to escort duty for Gen. George Thomas. 
After re-enlisting in January 1864, Tom remained on escort duty in the western theater; while in the east, his brother was promoted to Brigadier General of the 6th Michigan Cavalry. Shortly after obtaining command, Armstrong moved to have Tom transferred to his unit. With the help of Gen. Thomas, he succeeded in getting Tom mustered out of the 21st Ohio, commissioned a second lieutenant, and reassigned to the Michigan Cavalry. 
Tom reported to his new unit in November 1864 and was assigned to his brother's staff as an aide-de-camp. Guarding against perceptions of favoritism, Armstrong Custer purposely detailed his brother to the most arduous of tasks, causing Tom to remark: "If anyone thinks it is a soft thing to be a commanding officer's brother, he misses his guess."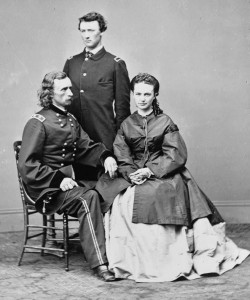 Tom Custer's first display of gallantry would come during the Battle of Waynesboro in March 1865 when he successfully led a charge over the Confederate breastworks. While leading another charge over an enemy barricade at Namozine Church on April 3rd, Tom noticed the color bearer of the 2nd North Carolina Regiment. Galloping toward the soldier, Tom not only seized the flag, but also secured the capture of 14 prisoners. It was this act that resulted in his first Congressional Medal of Honor, which was officially issued on May 3, 1865. 
At Sailor's Creek, three days after Namozine Church, Tom again charged a Confederate color bearer – who, shooting first, wounded Custer in the face. Although injured, Tom quickly returned fire, killing the soldier and capturing the flag. The dramatic scene was later described in a letter from Col. Henry Capehart to Libbie Custer, Armstrong's wife: 
"I saw your brother capture his second flag. It was in a charge made by my brigade at Sailor's Creek, Virginia, against General Ewell's Corps. Having crossed the line of temporary works in the flank of the road, we were confronted by a supporting line. It was from the second line that he wrested the colors, single-handed, and only a few paces to my right. As he approached the colors, he received a shot in the face which knocked him back on his horse, but in a moment he was upright in his saddle. Reaching out his right arm, he grasped the flag, while the color bearer reeled. The bullet from Tom's revolver must have pierced his heart. As he was falling, Captain Custer wrenched the standard from his grasp and bore it away in triumph."

After capturing the flag, a bloodied Tom raced back to his brother shouting, "Armstrong, the dammed rebels have shot me, but I've got my flag." Handing the banner to an aide, Tom intended to ride back into action, but his brother ordered him to report to a surgeon instead. When Tom refused to leave the field, Armstrong had him placed under arrest and taken to the rear. For his Sailor's Creek action, Tom was awarded his second Congressional Medal of Honor on May 26, 1865. 
Fortunately, the bullet fired by the color bearer traveled through Tom's right cheek without causing any significant facial damage. After receiving treatment from his regimental surgeon, he was sent to recover in a hospital at City Point, Virginia, thus ending his Civil War action. 
After the war, Tom was commissioned into the regular army as a second lieutenant, eventually following his brother into the newly formed 7th Regiment, U.S. Cavalry stationed at Fort Riley, Kansas. In September 1873, Tom accompanied Armstrong to Fort Abraham Lincoln in the Dakota Territory, the new home of 7th Cavalry. 
Tom Custer was with his brother Armstrong on June 25, 1876 when both lost their lives fighting Sioux and Cheyenne warriors at the Battle of Little Bighorn. When Tom's body was found three days after the battle – lying just twenty feet from his brother – it was so badly mutilated that he could only be identified by the "TWC" tattoo on his right arm. Originally buried on the battlefield, his body was exhumed in July 1877 and reburied in the Fort Leavenworth National Cemetery.
Suggested Reading:
Day, Carl F. Tom Custer: Ride to Glory. Spokane, Washington: Arthur H. Clark Company, 2003.